ADD LIGHT AND GREAT STYLE WITH CHANDELIERS
A chandelier is defined as "a branched, ceiling-mounted light fixture with two or more arms bearing lights." During the medieval times, they were made of wooden beams usually shaped as a cross with metal spikes on top to hold candles. It was hoisted towards the ceiling using a rope or chain, and was depended upon as a useful light source. They evolved into more delicate designs involving crystals and stones, and became more apparent in palaces, places of royalty and the wealthy. Today, the chandelier is used in a more decorative way, adding a luxurious presence to the home.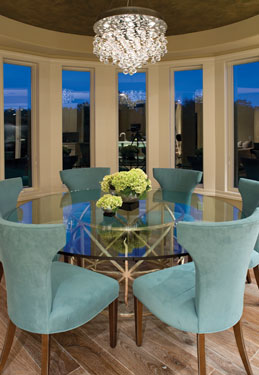 View This House Plan to the right
Nonetheless, chandeliers can add wonderful ambience to just about any room. They are designed to float in a room as an element of the design. It can serve as a room's centerpiece without taking over the entire space. Chandeliers can be a great conversation piece, as well as a part of the home that really makes you feel as though you are living in luxury. They are elegant and unparalleled additions and command attention like no other furnishing.  There are many points to consider when choosing a chandelier. Size, materials and light emission are crucial when determining the perfect chandelier for a room.
Vertical and horizontal sizes are important decisions to make when selecting a chandelier. A fixture that is too large may overwhelm the space, however, one too small will appear out of place or insignificant. The design and size of the chandelier will also affect the hanging height. For an elaborate chandelier that
takes up a lot of space, it should be hung a couple of inches higher than the standard height. Be sure to hold it up before committing to a height to make sure it works. Here are some general size dimension rules that will help when choosing a chandelier:
– If the room is smaller than 10′ by 10′, choose a 17″ to 20″ diameter chandelier.
– If the room is about 12′ x 12′, a 24″ to 27″ chandelier would be an accurate size.
– If the room is about 14′ x 14′, try a 24″ to 36″ diameter chandelier.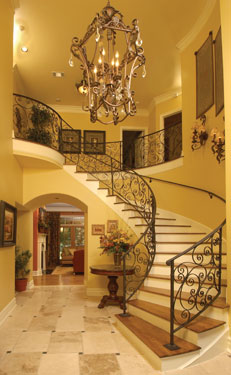 View This House Plan to the left
Another way to help determine the proper size chandelier for a room is to add the dimensions together. For example, if your room is 12′ by 17′, add the 12 plus 17 to get 29. Therefore, a proper size chandelier would be around 29″ diameter for that room.
The length at which the chandelier should hang depends on the ceiling height of that particular room. The bottom of the fixture should not hang more than 7′ from the floor. If windows are present, center the chandelier in the window so it can be seen from the outside.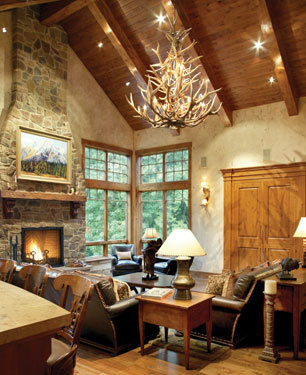 View This House Plan to the right
Since a chandelier will be a focus piece in the room, it is vital to choose materials that will enhance the decor of the area. Lavish and visually dazzling light fittings can create the most beautiful kind of lighting. The combination of crystals and candles conjures up all kinds of nostalgic feelings about chandeliers. Crystal and glass fixtures are very popular and represent a romantic sense of wealth. Chandeliers can also come in different metals such as brass, wrought iron, silver and steel. A wrought iron chandelier produces a magnificent appearance. Stone, beads, shell and capiz chandeliers aren't quite as fancy, but definitely provide a more edgy or whimsical look. Antler chandeliers from elk or deer embody a rustic style and are perfect for log cabins and rustic lodges. For a room with a traditional style, a fixture with more ornamentation and intricate designs will fit best. Alternatively, a simple chandelier would match a modern style space that is usually less ornamented. A formal and elegant room is best equipped with a very impressive chandelier. A space that features antiqued furniture would be complete with a more detail-enriched chandelier, perhaps with hanging pendants.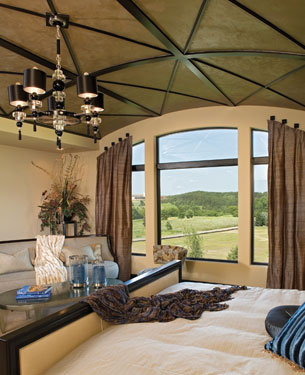 View This House Plan to the left
Another appropriate method to help choose the materials is to begin with a color or element that is influential in the decoration scheme of the room. You want your chandelier color to compliment your existing finishes. Brushed bronze, black, silver or even gold can be neutral tones that will match most decorating schemes. If you already have a warm, rich, wood and earth-toned theme, a bronze or gold finished chandelier may work best. If the room has cool tones, like blues and whites, a silver one would be appropriate. For that sleek, modern style space with black furniture, a silver or black fixture will complement that polished design.
View This House Plan to the right
Chandeliers have multiple bulbs and tend to shed a lot of light.  The amount of illumination that you will need can be calculated upon this formula:
Length x Width x 1.5 = wattage
For example, a room that is 12 x 15 feet will need bulbs that produce a combined total of 270 watts.  A chandelier with 6 bulbs that are 40 watts will most likely provide adequate illumination, especially if complemented by sconces, lamps, or other light fixtures. A more general rule to provide sufficient light with the total wattage of all bulbs is 100 watts to 400 watts. Since chandeliers of recent times are not used as a light source but more as a decorative piece, placing your chandelier on a dimmer is a great option. A dimmer allows adjustment to the light level in order to set the perfect mood.
A very common spot for a chandelier is often found in the dining room. It is important to make sure that the chandelier is low enough to light up the eating area without interfering with the sight line of the people seated at the table. The general rule is to measure 30″ to 36″ from the surface of the table to the bottom of the fixture to insure good illumination. Additionally, it should be about 12″ narrower than the width of the table so it will not interfere with people's heads. Often, the best thing to do is hold the fixture over the table and move it up and down
until it looks right.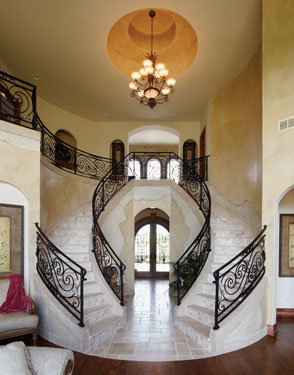 View This House Plan to the left
The perfect chandelier in the foyer will create a welcoming atmosphere for all who enter the home. It should provide the general light needed to greet guests and assure a safe passage into your home. When determining whether to hang a flush, semi-flush, or multi-tiered chandelier in your foyer, consider the ceiling height of the foyer and remember to keep it around 7 feet above the floor. For two-story foyers with a window above the front door, center the chandelier so it can be seen from outside. If your foyer is extra-large, you may also want to add matching sconces. They should be installed about 5 feet from the floor and around 6′ to 8′ apart.
A chandelier hanging at the top of a stairway can be a great focus point. Staircases are often overlooked when it comes to home decor, so the simple addition of a chandelier can integrate this space into the rest of your living area.
The kitchen is a unique, but elegant location for a chandelier. Many homeowners will match the dining area chandelier with the lighting used in the kitchen to keep a cohesive look throughout the home.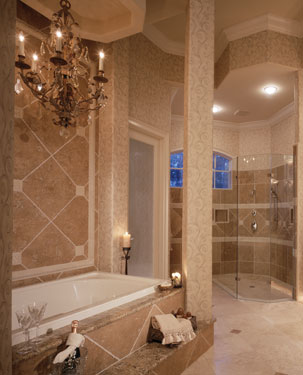 View This House Plan to the right
If you are placing your chandelier in a room with a relatively low ceiling like some bedrooms, consider purchasing a mini chandelier. In recent years, mini chandeliers have been gaining popularity for their ability to fit nicely into small spaces without sacrificing the character that a high-quality chandelier exhibits.
For countless years, chandeliers have long provided a majestic form of lighting that makes the space look grand and stately like no other lighting fixture. It can be a decorative accent or lovely centerpiece to just about any room in the home. Since matching the style of the room is of utmost importance, do not be afraid to experiment with different sizes, tastes and designs of
chandeliers to see which one works best
for your home.